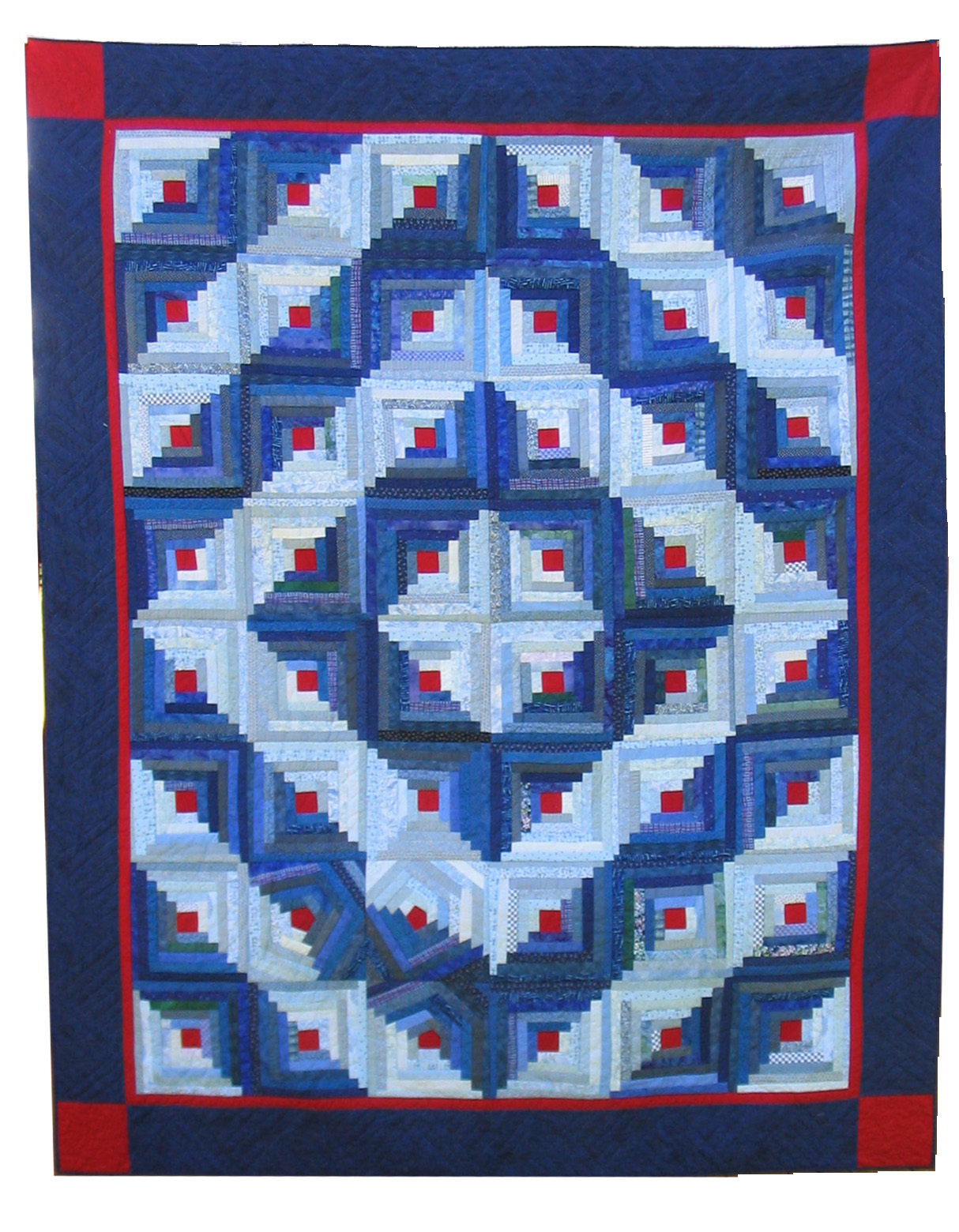 LOG CABIN (2007)
Commercial cottons, machine pieced, hand-quilted
80 x 102 inches
I began to learn to quilt in 2001, and for a few years made small things--potholders, placemats, and baby quilts. In 2004, I had enough confidence to undertake a bed-sized quilt—a quilt for Jeremy to take with him to college. We chose a log cabin design, in his favorite color, blue. Jeremy was to begin college in the fall of 2004, and I wanted the quilt finished by then. I had almost all the blocks done by the beginning of the summer.
And then Jeremy died.
In the days and weeks after Jeremy's death, I found some relief in hand-sewing simple appliqué pieces; the repetitive motion and attention to the shape I was sewing kept my mind from ruminating on the accident. After some months, I turned to Jeremy's quilt. How could I finish it, now that he was no longer here to receive it? But how could I discard this quilt I had been making for him? I finally thought of a way that I could finish it, but embed in it my grief over his death. At the time Jeremy died, I had only three blocks left to complete the forty-eight that would make up the top. I decided to change the design for the last three blocks, starting them from a five-sided center, rather than from the four sides of a square. When set into the diamond pattern Jeremy had chosen, it expressed for me the way in which his life had so abruptly gone off course. I thought a lot about where to put the three last blocks. I put them together rather than scattered through the quilt; towards the edge rather than in the center; towards the bottom rather than the top; catching one's vision, but not dominant.
In retrospect, I can see that this design decision was a first step towards making art as a way to both cope with my loss and to express aspects of that experience to others.