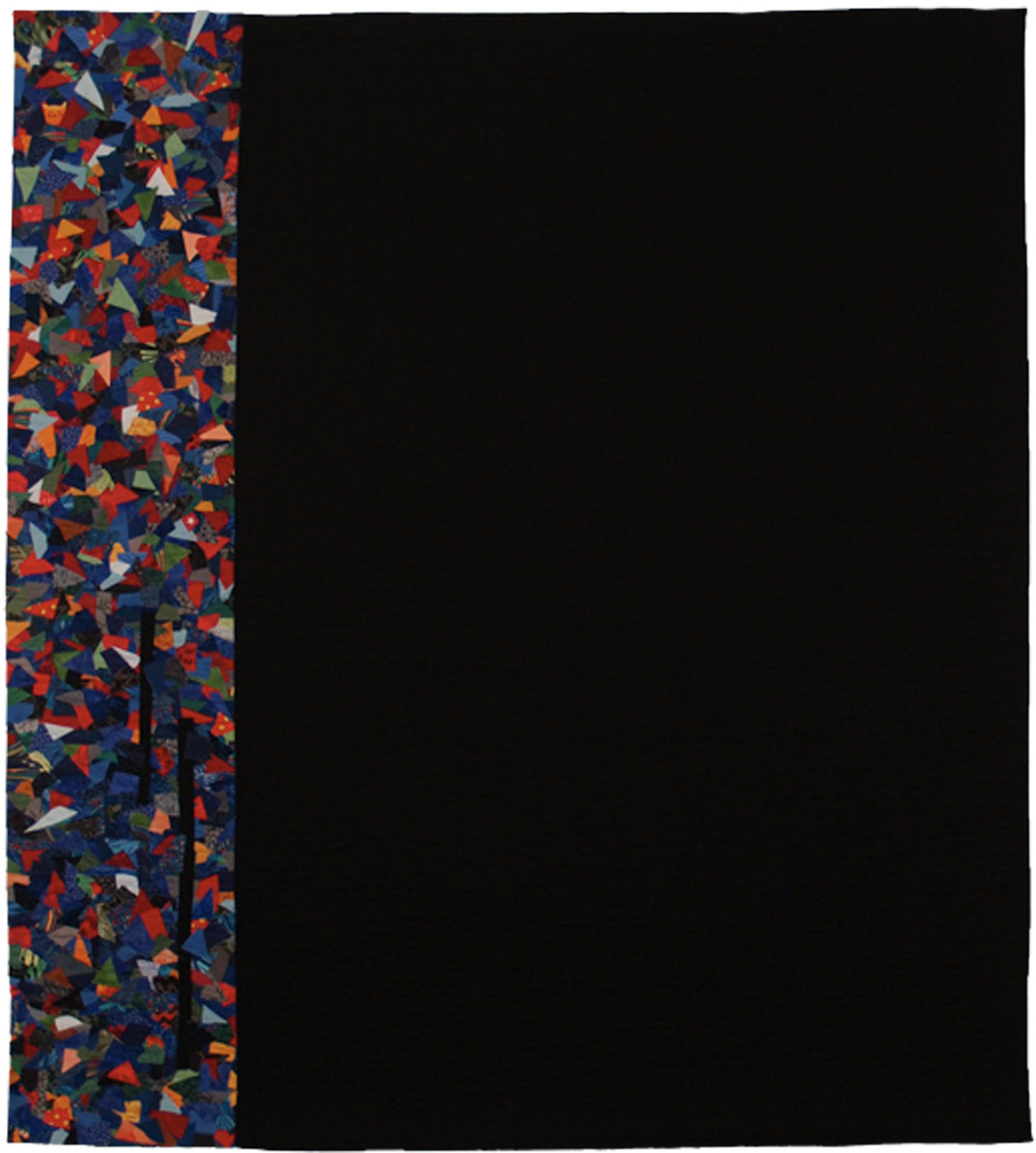 Loss (2008)
Commercial cottons, hand-appliqué, machine quilted
51.5 x 57 inches
This is the quilt that initiated what became this series about loss. A week before the 2005 design workshop for quilters, I had come up with only two of the three ideas we had been instructed to bring with us as possibilities for development into quilts. David and I spent the weekend before the workshop at Starved Rock State Park. We had lots of time to talk, including sharing how bleak the future seemed to both of us. At one point in the weekend, feeling the press of needing to come up with a third idea for the workshop, I asked David for help. It immediately occurred to both of us that our feeling of the future without Jeremy was something that could be the central idea for a quilt. As we talked, thinking together of a possible design, I sketched out our ideas—a mosaic of colors on the left, representing the brief span of Jeremy's life with us, and a chasm of unbroken black on the right, representing our future without him.
On the second day of the workshop, we were assigned an exercise to create a portrait, using color in an abstract way to represent a particular person. Here it was, an open door inviting me to work on a portrait of Jeremy, something that could be the base for the multi-colored strip in the sketch David and I had come up with. The portrait came to me spontaneously, without a struggle. It put something of Jeremy's character, and about how I felt about Jeremy, into a visual form. The choices of colors and shapes came easily because I had in mind the central idea I wanted to express: that this was about Jeremy, about his energy and intensity, about his sharp edges, about the problems as well as the joys. That his life was varied, but also limited. A detail from the final version: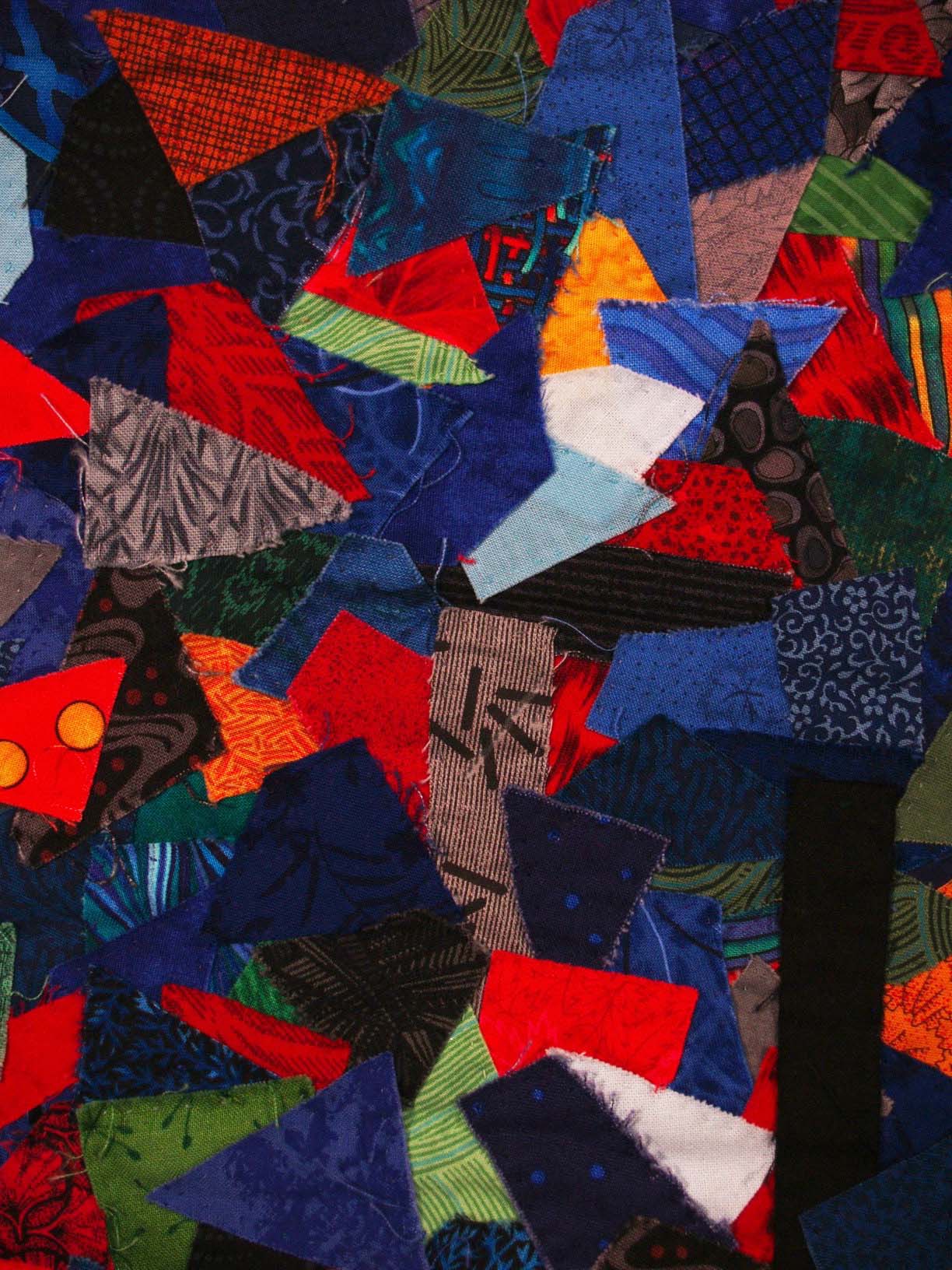 Thanks to the gifted teaching that week of Bill Kerr and Weeks Ringle, I now had a way to make all the many design decisions that followed for this piece. In all the quilting I'd done previously, I'd begun with a design made by someone else. For each of the subsequent decisions—fabric, color and value, border, binding, quilting—for each of these I had only the guidance of wanting to make something that would look nice, perhaps even beautiful. But now I had begun a quilt with an idea of my own, an idea about which I cared deeply. For every decision I faced, I had this idea to guide me. It wasn't a question of what "looked best," but of what best conveyed the idea I wanted to express.
I had spent many years of my life as a teacher and writer, explaining things through carefully chosen words. In the wake of Jeremy's death, words failed me. But with this quilt, I found a new vehicle in art, which is especially tuned to the expression of emotion. In the words of the great abstract artist Agnes Martin: "Art is about emotion and emotions are abstract."
Making this quilt was a private endeavor. It's not something that will ever be used on a bed or hung on a wall. It served as a kind of therapy for me. It has also become art--something with the potential of communicating to others, even if that was not my original intent. When I was at the design workshop, well along in working on the quilt design, I brought the small maquette over to Bill to ask him a straighforward technical question. Oddly, he didn't respond. When I asked again, he said, "Penny, it's not so easy for me to look at this. I have my own losses too." It hadn't occurred to me that something so personal, so specific to me and to David, could also strike this kind of chord with another person.